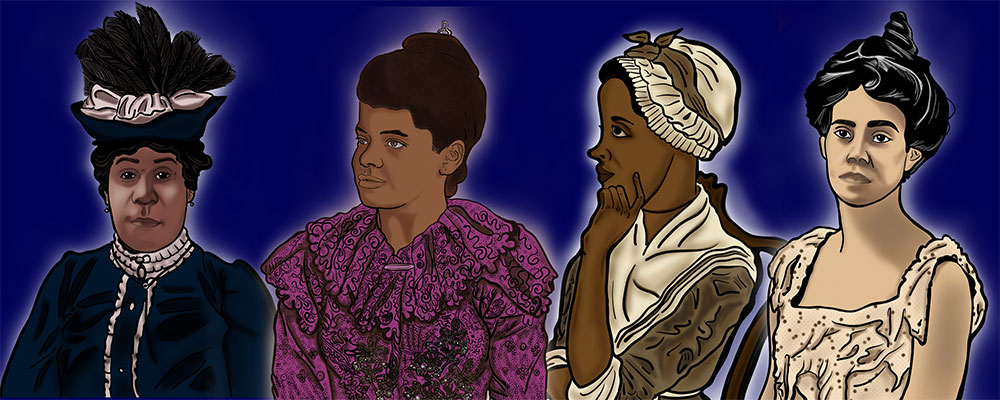 A key component of Court's community engagement work, the Spotlight Reading Series—which has in the past brought staged readings from BIPOC playwrights to local communities on Chicago's South and West sides—has been reimagined for 2021 as a series of four audio podcast episodes directed by and performed by local theatre artists. The podcast's first season features work by novelist and editor Pauline Hopkins; activist and journalist Ida B. Wells; poet Phillis Wheatley, and diarist Alice Moore Dunbar-Nelson–all of whom are historical Black women not typically explored on the American stage. Literary excerpts are read by Chicago actors Sheldon Brown, Kierra Bunch, Diana Coates, LaQuis Harkins, and Aneisa Hicks under the direction of Cheryl Lynn Bruce and Court's resident artist Ron OJ Parson.
Episodes of the pilot season will be released on February 18, February 25, March 4, and March 11, 2021, on this page, as well as on listening apps like Spotify, Google Podcasts, and Apple Podcast. 
---
The Diarist: Alice Moore Dunbar-Nelson | February 18, 2021


Alice Moore Dunbar-Nelson was one of the few Black women diarists of the early 20th century. She also worked as an educator for most of her life. Actor Kierra Bunch reads three selections from her first book "Violets and Other Tales": "Three Thoughts," "The Woman," "Paul to Virginia." Read by Kierra Bunch. Directed by Ron OJ Parson.
Listen: 
Show Notes:
The Poet: Phillis Wheatley | February 25, 2021


Poetess Phillis Wheatley is one of the earliest known writers in African American literature. Actor Diana Coates reads six of her poems: "On Being Brought from Africa to America," "On Virtue," "To the Honourable T.H. Esq; On the Death of His Daughter," "On Imagination," "To S.M. a Young African Painter, On Seeing His Works" and "An Hymn to the Morning." Read by Diana Coates. Directed by Cheryl Lynn Bruce.
Listen: 
Show Notes:

The Afro-Futurist: Pauline Hopkins | March 4, 2021


Pauline Hopkins is thought to be the first Black woman to pen a sci-fi novel. Actor LaQuis Harkins reads Chapter 4 of the novel "Of One Blood." Directed by Ron OJ Parson.
Listen:

Show Notes:

The Investigator: Ida B. Wells | March 11, 2021

Renowned journalist and activist Ida B. Wells led an anti-lynching crusade to protect Black lives in the South, despite facing death threats. Actors Aneisa Hicks and Sheldon Brown read an excerpt from "Southern Horrors: Lynch Laws in All Its Phases." Directed by Cheryl Lynn Bruce.
Listen: 
Show Notes:

---
The Spotlight Reading Series is made possible, in part, by a grant from The Joyce Foundation.
Court commissioned artist Isaac Maysonet to create distinct episode portraits for the Spotlight Podcast.