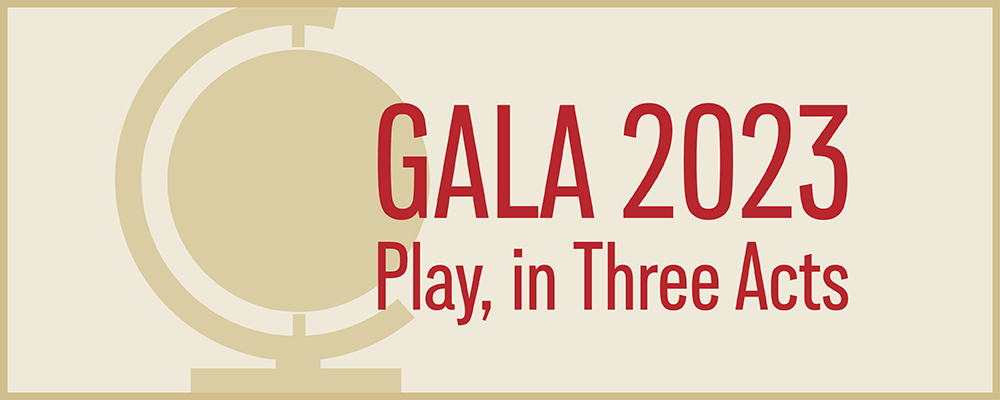 The 2023 Court gala – Play, In Three Acts – was a resounding success! Thank you to everyone who brought this party to life on June 10, including Court's Board of Trustees, University of Chicago faculty and administrators, artists, guests, gala co-chairs Dana Levinson and Andrea Sáenz, and honorees Barbara Franke, Lorna Ferguson, and Audrey Petty.
Read more about the gala here and enjoy this video clip celebrating the honorees!
You can still help support our programs! A few tickets remain for available for Robed in the Renaissance: A Night of Immersion with Ada Palmer.
Tickets available for purchase. Please contact Assistant Director of Development Cara Peterson at 773-834-5293 to join us.
All proceeds from the gala support Court Theatre's artistic initiatives and education programs. Court Theatre is the Tony Award–winning professional theatre of the University of Chicago, dedicated to innovation, inquiry, intellectual engagement, and community service. Functioning as the University's Center for Classic Theatre, Court and its artists mount theatrical productions and audience enrichment programs in collaboration with faculty. These collaborations enable a reexamination of classic texts that pose the enduring and provocative questions that define the human experience.
Donate
Honorees
Lorna Ferguson
Barbara Franke
Audrey Petty
Gala Chairs
Dana Levinson
Andrea Sáenz
---
Gala Committee
Dana Levinson, Chair
Andrea Saenz, Chair
Daniel O. Ash
Lois R. Beznos
Maurice J. Beznos
Mary Louise Gorno
Judy Lindsay
Sarah Marmor
Lise Spacapan
Will Snyder
Susana Vasquez
Board of Trustees
Gustavo E. Bamberger, Chair
Dana Levinson, Secretary
Lawrence E. Strickling,
Treasurer
Trustees
Diane Anderson
Mary Anton
Adam Bush
Joan Coppleson
John Culbert
Felicia Davis
Sean Durkin
Roberta Evans
Lorna C. Ferguson
Barbara E. Franke
Virginia Gerst
Mary Louise Gorno
Andre Guichard
Frances Guichard
Tracie D. Hall
Kevin J. Hochberg
Thomas Kittle‑Kamp
Sarah R. Marmor
Shirley Massey
Joan E. Neal
Nicole Robinson
Judith L. Sensibar
Robert Shapiro
Will Snyder
Lise Spacapan
Marilyn Fatt Vitale
Ex-Officio
David J. Levin
Charles Newell
Larry Norman
Susana Vasquez
Angel Ysaguirre
Photos
Articles and Interviews