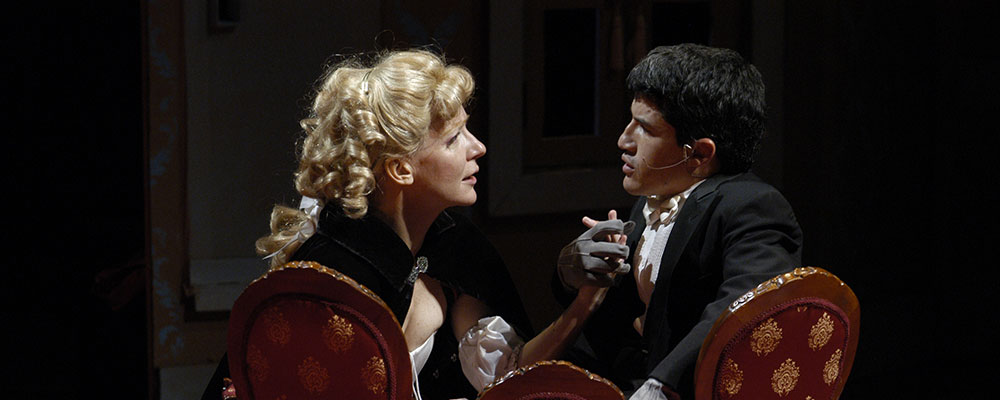 Mabou Mines DollHouse
Adapted from Henrik Ibsen
by Lee Breuer & Maude Mitchell
Conceived and Directed by Lee Breuer
Co-presented with the Museum of Contemporary Art
Nov 30, 2005 — Dec 18, 2005
"For anyone with a serious interest in alternative theater–here expressed with production values on a par with a Broadway show–this Court Theatre/MCA presentation is absolutely not to be missed." -Chicago Tribune

"This touring production by one of the longest-lived avant-garde theater companies in America–presented jointly by Court Theatre and the Museum of Contemporary Art–is part melodrama, part silent film with dialogue and live music, part farce, part grotesque masque. Only the power games, the manipulative tricks, the lies and the hypocrisy are real. The rest is fantasia, heated to the boiling point." -Sun-Times
A major theatrical event and part of an international tour, Mabou Mines DollHouse transforms Ibsen's bourgeois tragedy into high comedy with a deep bite. In the tradition of Lee Breuer's award winning series of imaginative classics, like Gospel at Colonus and the gender-reversed Lear, DollHouse is on a political track that speaks not a word of politics.
Breuer turns Ibsen's mythic feminist "anthem" on its head by physicalizing the equation of Power and Scale. Eve Beglarian's piano concerti, inspired by Edvard Grieg, accompany each scene, silent movie-like, while Martha Clarke's choreography further deconstructs the melodrama's posturing into dance.
Nora comes home with a Christmas present. It is a dollhouse so large that the children can play inside. All the period furniture, the crockery, the knick-knacks are the right size for the children, Emmy and Ivar, who are hardly more than three feet tall.
Enter Torvald, Rank, and Krogstad – We find that the men are the same size as the children. Is this dollhouse the world of patriarchy, the world in which a woman never fits?
Here Ibsen's feminism is metaphorically rendered as a parable of scale. The dollhouse is a man's world and only doll-like women, who allow their men to feel grand, can hope to live in it. Even the cod-Norwegian accents are miniaturized; like the accents in Disney's "It's A Small World". Nothing here is real except the pain. Both Torvald and Nora are trapped in a meta-narrative, playing out an illusion of male power. Both pay the price: the death of love.