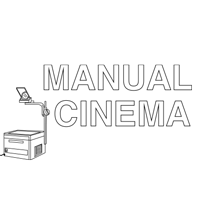 MANUAL CINEMA is a performance collective, design studio, and film/ video production company founded in 2010 by Drew Dir, Sarah Fornace, Ben Kauffman, Julia Miller, and Kyle Vegter. Manual Cinema combines handmade shadow puppetry, cinematic techniques, and innovative sound and music to create immersive stories for stage and screen. Using vintage overhead projectors, multiple screens, puppets, actors, live feed cameras, multi-channel sound design, and a live music ensemble, Manual Cinema transforms the experience of attending the cinema and imbues it with liveness, ingenuity, and theatricality.
Manual Cinema has been presented by, worked in collaboration with, or brought its work to The Metropolitan Museum of Art (NYC), BAM (NYC), The Museum of Contemporary Art Chicago, The Kennedy Center (DC), Under the Radar Festival (NYC), La Monnaie-DeMunt (Brussels), The Noorderzon Festival (Netherlands), The Kimmel Center (DC) The O, Miami Poetry Festival, The Tehran International Puppet Festival (Iran), Davies Symphony Hall (SF), The Ace Hotel Theater (LA) and elsewhere around the world. They have collaborated with StoryCorps (NYC), Erratica (London), The Belgian Royal Opera (Brussels), Hubbard Street Dance (Chicago), Pop-Up Magazine (SF), Nu Deco Ensemble (Miami), NYTimes best-selling author Reif Larsen (NYC), and three time Grammy Award-winning eighth blackbird (Chicago).
In 2018, the company will have debuts Cairo and Holland.  Lean more.