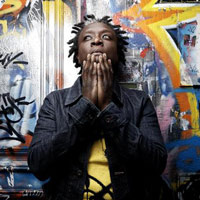 Born in the Paris region, in Brétigny-sur-Orge, Bintou Dembélé is one of the major artists of the hip-hop movement in France. She began her career as a member of crews such as Aktuel Force, Ykanji –which she co-founded – the collective Mouv 'of the Contemporary Dance Theater in Paris, or the company Käfig.
As a dancer and choreographer, she has worked with artists such as MC Solaar (Paradisiaque), Grand Corps Malade (Roméo kiffe Juliette), Sophiatou Kossoko (La Nuit des Musées), photographer Denis Darzacq (La Chute) or choreographer Hooman Sharifi (To be means to resist, resist what you are not).
In 2002, she created Rualité, an artistic and cultural platform that has produced many of her works: L'Assise (2004), LOL (2008), Mon appart 'en dit long (2010), Z.H. (2014), S/T/R/A/T/E/S – Quartet (2016), Le Syndrome de l'Initié.e (2018), which have been performed in France, Belgium, Burma, Chile, French Guiana, Italy, Macedonia, Mali, Sweden, Switzerland…
She has collaborated with numerous academic researchers and institutions, including Sylvie Chalaye (anthropologist of colonial representations and historian of the performing arts) and the SeFea laboratory (Scènes Francophones et Écritures de l'Altérité / Francophone Scenes and Writings of Otherness); Isabelle Launay, Professor in the Dance Department at Paris 8 University; and Mame-Fatou Niang, Associate Professor at Carnegie-Mellon University in Pittsburgh, USA.
In 2017, Clément Cogitore invited her to choreograph his film Les Indes galantes for 3e Scène – Opéra de Paris. Their partnership expanded in 2019 when she choreographed Cogitore's production of Jean-Philippe Rameau's Les Indes galantes at the Opéra Bastille.
In 2019 at the Palais de la Porte Dorée in Paris, and in 2020 at the Centre Pompidou in Metz, she designed Les Indes galantes, live performance, a set of custom-made live installations tailored for each space, based on choreographic sequences from the Opera- Ballet.
In 2020, she became an associate artist at Les Ateliers Médicis (Clichy-sous-bois / Montfermeil) and is one of 10 international artists invited to participate in the 10-year anniversary celebration of the Center Pompidou-Metz. The Lyon Opera has invited her to create a solo performance for a ballet dancer as part of the project "30 dancers, 30 solos."