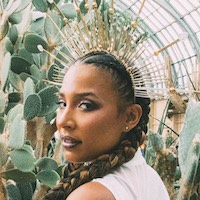 KRISTIANA RAE COLÓN is a poet, playwright, actor, educator, producer, curator, creator of #BlackSexMatters, co-founder of the #LetUsBreathe Collective, and Executive Story Editor on Showtime's hit series The Chi.

Past works include good friday (New Manifest ATX – 2020, The Flea Theater NYC – 2019, Oracle Productions – 2016), Tilikum (world premiere Sideshow Theater, 2019 Best New Play at Non-Equity Jeff Awards, 2018 Outstanding New Play at ALTA Awards), Octagon (world premiere Arcola Theatre, London, 2015; American premiere Jackalope Theatre, 2016), but i cd only whisper (world premiere Arcola Theatre, London, 2012; American premiere The Flea, New York, 2016). 
In 2013, she toured the UK for two months with her collection of poems promised instruments, winner of the inaugural Drinking Gourd Poetry Prize and published by Northwestern University Press. 
Kristiana is an alum of OpenTV's Screenwriting fellowship where she is developing a series adaptation of her play suspension which was a semi-finalist for American Theater's Relentless Award. She is also an alum of Goodman Theatre's Playwrights Unit where she developed her play florissant & canfield, which debuted at University of Illinois-Chicago in February 2018. She is a resident playwright at Chicago Dramatists and one half of the brother/sister hip-hop duo April Fools. She appeared on the fifth season of HBO's Def Poetry Jam. Kristiana's writing, producing, and organizing works to radically reimagine power structures, our complicity in them, and visions for liberation. 
Kristiana's current work explores Afrofuturist media as a catalyst for social change. A foundational premise of her organizing is that artists are the vanguard of revolution, that it is the social duty of creatives to envision, imagine, rehearse, design, and embody our liberated future; we cannot achieve alternatives to the existing harmful, violent systems and institutions if we can't first imagine them. Liberation is a curatorial act, a creative act; revolution is inherently speculative in nature. Through science fiction, Afrofuturism, and speculative media, we create opportunities to rehearse the future together.
Bio as of 2/2023