Synopsis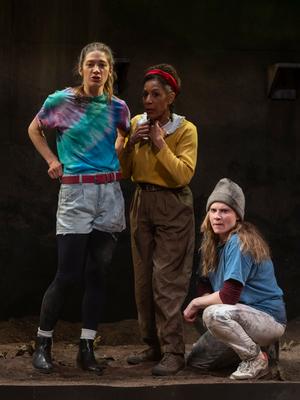 Fen takes place in the Fens of eastern England in the 1980s, a swampy, bog-like region that is economically depressed. A businessman introduces audiences to this land and region, calling it the "most expensive earth in England."
Women work as laborers in the fields, digging up potatoes and bagging onions. One of these laborers, Val, wants to leave her children with her husband and flee to London with her lover, a fellow laborer named Frank.
Frank struggles to confront his boss, Mr. Tewson, and ask for a raise, while Val struggles with the prospect of abandoning her daughters, Deb and Shona; her mother, May; and her grandmother, Ivy.
Angela, one of the laborers, harbors a crush on Frank and tortures her stepdaughter, Becky.
Becky, Shona, and Deb viciously taunt Nell, a villager and laborer whom they suspect of witchcraft.
Mr. Tewson, Frank's boss, is unsure if he should sell his land to Miss Cade, a woman from the city. After a meeting with Miss Cade, a ghost terrifies Mr. Tewson, sharing stories of violence, exploitation, and atrocities.
Val seeks advice from Shirley, a villager and laborer, as Shirley juggles her domestic duties; Val also seeks solace in a prayer group and by spending time with family.
Frank and the women—not including Val—unwind at a bar. Frank and Nell commiserate, and Angela tries unsuccessfully to seduce Frank.
Desperate to be free of her circumstances, Val asks Frank for a favor. He obliges.
Please note: Fen includes themes of suicide, alcoholism, and racially and sexually offensive language.
Characters
Character Map
This play has 22 characters and only 6 actors. The roles are double, triple, quadruple, and even quintuple-cast, meaning that each actor plays more than one role. Check out this character map that helps highlight relationships between the characters. Mrs. Hassett is the gangmaster of everyone in blue, and Mr. Tewson is Frank's boss (in yellow).