Shining a Light on Hidden Gems: Court's Spotlight Reading Series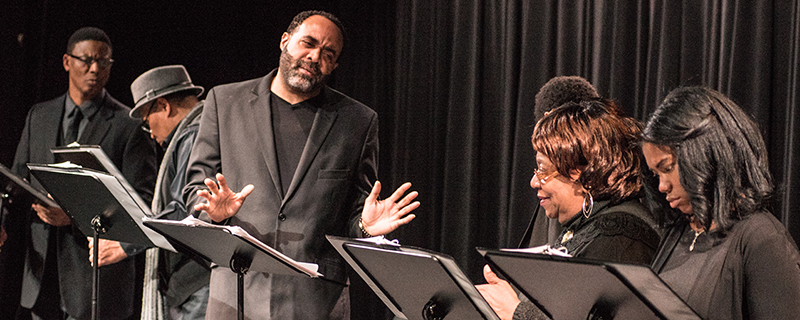 You love Court for its dedication to producing beloved and contemporary classics. Did you know that Court's Spotlight Reading Series takes our mission a step further, bringing rarely produced scripts by writers of color to Hyde Park and beyond?
The Spotlight Reading Series is the brainchild of Ron OJ Parson, Court's Resident Artist. Ron believes that the classic canon should include writers of color, and wanted to bring classic but rarely seen plays to a younger audience, and to the community at large.
"It is, and has always been, important to me during my years at Court Theatre to reach out to the surrounding communities and expand the envelope of 'classic' theatre," said Parson. "people will get to explore theatre from a diverse lens, learning the rich history of theatre from the African diaspora."
Supported by a grant from The Joyce Foundation, the series takes form as five one-performance-only public readings held at locations throughout the city. Each reading is directed by an industry professional, and features Chicago actors. To bring these stories into communities, Community Programs Manager Aaron Mays builds partnerships with cultural and civic organizations around Chicago's South Side.
"I seek out community institutions in different neighborhoods that want the benefits of artistic programming," says Mays. "The themes and stories presented in the plays resonate today with the public. Presenting these readings in the community means that a more diverse, wider audience will experience theatre that they otherwise might not have the opportunity to witness."
The series began with five readings in 2016, and welcomed over 400 attendees. Mays recalls one particularly exciting reading of Black Cycle in Bronzeville. "We had a huge audience, and nearly everyone stayed for the post-show discussion. They were engaged and attentive, and wanted to talk about the history and themes of the play. That discovery of the play really opened up a lot of conversations, which is exactly what the reading series aims to do."
For the 2017 Season, Mays hopes to engage more audience members through talkbacks and symposiums. For the upcoming reading of Buffalo Hair in July, playwright Carlyle Brown will participate in a talkback with audience members. The most recent reading was hosted at the National Museum of Mexican Art in Pilsen, and featured food and beverages from local vendors. "The readings are an opportunity to engage with members of the community, artistically through the play itself and also through partnerships with local businesses. The evening is more complete when we collaborate with the neighborhood that is hosting the reading. It becomes a real sharing of resources." Readings are scheduled to take place in Austin, Chatham, Avalon Park, and Bronzeville.
The 2017 Spotlight Reading Series has three remaining readings in the Season. The next reading, Buffalo Hair by Carlyle Brown, will take place at 6:30pm on July 10 at the NEIU's Carruthers Center for Inner City Studies, 700 E. Oakwood Blvd. To reserve a spot for this upcoming reading, click here. We hope you'll join us to see one of these hidden gems!
Photo by Crystal Wiley-Brown.