Donors Make A Difference: Chip Bamberger & Martha Van Haitsma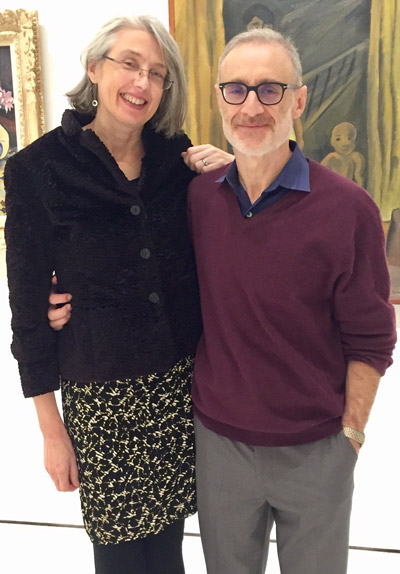 Chip Bamberger and Martha Van Haitsma, Producers' Circle members and long-time subscribers, are firm believers in the transformative power of arts in education.
In addition to their three decades as loyal subscribers, Chip and Martha are also generous patrons to Court. Their most recent gift will fund an innovative collaboration between Court and the Ancona School in Hyde Park/Kenwood.  Court staff, in conjunction with Ancona staff and faculty, has developed an immersive experience to bring students into the theatrical process surrounding Court's production of Blues for an Alabama Sky, which takes place during the Harlem Renaissance.  At the same time, the Ancona faculty has focused this academic year on the history, art, and music of the Harlem Renaissance.
Chip and Martha's interest in funding this unique program was spurred by a memorable experience at a First Rehearsal, where cast members gather to read a script for the first time. "We attended a reading of Skylight in 2012 with one of our sons, and were impressed at how actors at a table reading could make the story and characters come alive instantly," recalls Martha. "We'd seen plays at Court for decades, but witnessing a First Rehearsal deepened our appreciation for the work and process behind the scenes." As a Board member at the Ancona School, Chip thought that it would be a terrific opportunity for students to be afforded that same inside look. Their youngest son, an Ancona alumnus, agreed that it would be a good fit.
As discerning theater-goers, Chip and Martha rank Court among the top-performing theatres that consistently produce work of the highest quality. "The acting is top-notch, and the intimate setting of the theatre provides a visceral view of the action on stage," says Martha. Chip especially appreciates the wide range of genres that Court produces – dramas, comedies, musicals – and fondly recalls Travesties and Scapin, while Martha lists Caroline, or Change and The Invention of Love as among her favorites. Productions both found particularly moving and well done include Angels in America, Man of La Mancha, and the plays of August Wilson's Century Cycle.  As members of the Producers' Circle, Court's premier giving society, the couple has also enjoyed attending special events featuring Court artists and University of Chicago scholars. "Being able to further understand the background of plays, and hear the insights of playwrights and translators have certainly enriched our theater-going experience," reflects Martha.
After attending the First Rehearsal of Blues for an Alabama Sky, the Ancona 7th and 8th graders were enthusiastic. Multiple students described the actors as "energetic and passionate," with one student saying that even though they were the only kids in the room, "I actually did not feel like an outsider. I felt like we all belonged there." A student named Kameron awarded the highest praise, declaring the rehearsal "definitely one of the best field trips I've had."
Chip and Martha are excited for the continuation of Court's program. "Court's receptiveness towards the idea, combined with the energy and enthusiasm of educators at Ancona, will create an exceptional experience for the students," says the couple.  Court Theatre thanks Chip and Martha for their continued support, and applauds their exemplary commitment towards arts and education.
---
Just as Chip and Martha's gift has made an impact, your gift to Court supports artists onstage and behind the scenes, as well as students and teachers in our classrooms, and partners in the community. Donations from you and other theatre supporters compromise 45% of gifts to Court every year, and are critical to Court's sustained success. Click here to give today! Or, contact Andrew Berg, Director of Development, at (773) 834-3305 or via email.