Donors Make a Difference: Kevin Hochberg and James McDaniel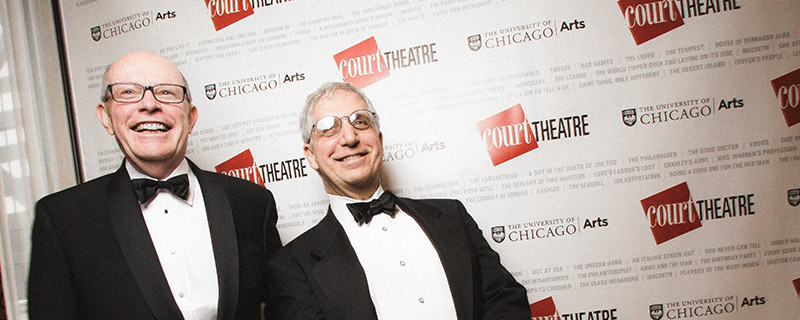 Court Theatre is fortunate to have the loyal and generous support of Kevin Hochberg and James McDaniel. Kevin and Jim are long-time supporters of Court through donations, ticket purchases, and Kevin's leadership on the Court Theatre Board of Trustees since 2001. Not only are Kevin and Jim contributing to Court's success today, but they are also instrumental in securing Court's continued success by including the theatre in their estate plan.
"We believe Court Theatre is a dynamic and vital part of the University of Chicago and the Chicago theatre community," says Kevin. "By leaving a gift to Court in our financial plans, we can ensure that others are able to experience the revitalization of classic texts for years to come."
Legacy gifts allow Court to focus on long-term strategies and goals for the future such as expanding educational programs, increasing community outreach, and continuing to advance the Center for Classic Theatre. These areas allow Court to play an important role in regional theatre both on our stage and in the community.
"Philanthropy has always been important to us, and we want to make a lasting impact," says Kevin. "By establishing our bequest, we can plan for our future and Court's future."
We are grateful to Kevin and Jim for all they do for Court. In addition to supporting the theatre, they are also supporters of University of Chicago College and Law School and the Chicago cultural community.
---
Just as Kevin and Jim's gift has made an impact, your gift to Court supports artists onstage and behind the scenes, as well as students and teachers in our classrooms, and partners in the community. Donations from you and other theatre supporters compromise 45% of gifts to Court every year, and are critical to Court's sustained success. Click here to give today! Or, contact Andrew Berg, Director of Development, at (773) 834-3305 or via email.
There are many different avenues of legacy gifts that suit various needs and situations. To create your legacy at Court Theatre, contact Andrew Berg, Director of Development, at (773) 834-3305 or via email.
Photo: Kevin and James at the 2015 Court Theatre gala (Joe Mazza)